Admin dashboard templates are invaluable tools used to construct the backend interface of websites or applications. These templates consist of web pages and elements developed with JavaScript, CSS, HTML, or JavaScript libraries. They grant users with administrative privileges access to manage the website or application's functionality and data. Essential features, including data visualization, user management, and content editing, are often included in these templates.
Web developers and website owners can utilize admin dashboard templates to create additional backend pages for their custom websites. However, it's important to note that these templates are primarily designed for backend usage and are not intended for the front end visible to regular users. By using stylish admin dashboard templates, developers can enhance the website's aesthetics and improve its performance.
Developers and website owners seeking to optimize their websites with enhanced comfort and information will find admin dashboard templates valuable. Instead of facing the challenge of building a custom admin dashboard from scratch, these pre-built templates provide all the necessary elements and functions required for a backend user interface in any conceptual project.
One excellent resource for such templates is ThemeForest, which offers a collection of over 1,500 admin dashboard templates. This vast selection makes it significantly easier for developers to construct the backend UI of their applications.
Imagine having a set of ready-to-use pages and elements, such as widgets, chats, and icons, that developers can swiftly deploy to production without the burden of starting development from scratch. The time and cost savings alone make admin dashboard templates a highly practical solution.
While certain CMS platforms like Shopify or WordPress cater to broader needs such as e-commerce and content management, they may fall short when it comes to specific businesses or services requiring deep customization and integration. In such cases, ThemeForest dashboard admin templates offer an excellent solution.
Now, let's explore the five best-selling admin dashboard templates available on ThemeForest.
Metronic stands as the most developer-friendly admin dashboard template, now equipped with version 8.1.9's advanced developer-first approach. Its exceptional flexibility, extensive frameworks, and diverse demos make it a powerful ally for developers seeking a robust and efficient solution for their multiple projects.
This new update brings a host of improvements, enabling developers to work more efficiently and effectively. With up to nine backend and four frontend frameworks, Metronic empowers projects with accelerated design and development capabilities, drastically reducing time-to-market and keeping costs at a remarkably low level.
One of Metronic's standout features is its impressive collection of over 50 unique, hand-crafted demos. These demos can be effortlessly integrated into any existing system, making it an ideal choice for companies with specific industry requirements. By offering a one-stop solution for various industries, Metronic proves to be the go-to option for businesses looking to streamline their workflows and enhance their productivity.
Experience the power of Martronic UI Kit, packed with impressive features to streamline your development process.
Key Feathers:
1. Extensive Frameworks: 12 plus frameworks, offering versatility and flexibility to suit your unique project requirements.
2. Seamless Integration: Easily integrate Martronic UI Kit into any existing workflow, saving valuable time and resources.
3. Code Quality: Clean, well-organized code that enhances readability and maintainability, ensuring a smooth development experience.
4. Advanced Design: Modern design principles with Martronic UI Kit offering aesthetically pleasing solutions.
5. User-Friendly Interface: Enjoy a UI interface that simplifies navigation and enhances user engagement.
6. A Wealth of Demos: Over 50 unique hand-crafted demos, provide an excellent starting point for your projects.
7. Time and Cost Efficiency: Save both time and money with Martronic UI Kit's efficient development tools and resources.
8. Developer-Centric Approach.
9. Single-Core Solution: A single-core solution capable of handling multiple projects effectively.
10. Top-Notch Layouts: Access more than 50 pre-defined, professionally crafted layouts to kickstart any design process.
A Stunning Vue.js and Laravel Admin Dashboard for 2023. It is built with the powerful combination of Vue.js and Laravel. This modern template is meticulously designed to cater to your every need. Embracing the atomic design system, Vuexy offers a highly customizable & developer-friendly dashboard UI kit that leaves no feature unexplored.
Developers will rejoice with the clean, minimalistic, and developer-friendly admin template. Its flexibility allows for seamless customization, making it a breeze to kick-start your next project or application. The comprehensive suite of features will boost the developer's productivity and accelerate development.
Key Features:
1. Extensive Page Collection: 30+ pages that encompass all commonly used features, streamlining the development process.
2. Highly Customizable Dashboard: Modern and highly customizable Dashboard UI kit, giving you complete control over the appearance and functionality.
3. Multiple Demos: 6 different demos that exemplify the versatility of this template, tailored to suit various project requirements.
4. Sleek and Modern Design: Clean and modern admin theme, ensuring a delightful user experience.
5. Well-crafted applications: Four expertly crafted applications that accelerate project creation.
6. Diverse Card Collection: 50+ basic and advanced cards for eCommerce, Analytics, Statistics, Weather, Charts, Maps, and Interactivity.
7. Designed UI components: 60+ designed UI components with Vuexy principles that ensure a seamless user interface.
Not just that, Vuexy Admin offers unrivaled support, ready to assist you with any challenge developers may encounter.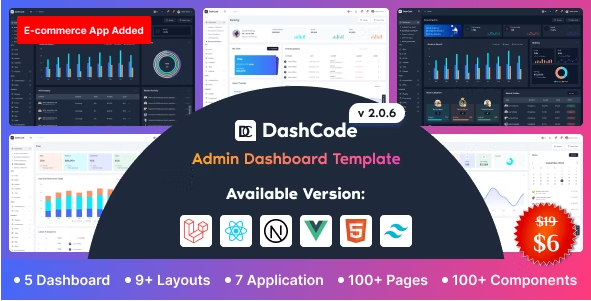 Introducing Dashcode, the ultimate web UI development tool for React, Vue 3, and Tailwind enthusiasts. Dashcode stands out as the most powerful, simple, and fastest solution, offering unparalleled convenience and flexibility to developers, making it the ideal choice for building web applications.
With Dashcode, developers can kickstart their projects effortlessly. It provides a powerful admin panel, enabling users to monitor every action with ease. Dashcode adheres to the highest industry standards, ensuring scalability and making it the best admin template available.
Key Features:
1. Multiple Dashboard Options: Dashcode offers five conceptual dashboards and six pre-built applications to cater to various project requirements.
2. Versatile Themes: Multiple color schemes to give your web app a personalized touch.
3. Stunning Layouts: Nine beautifully crafted layout options to enhance your application's visual appeal.
4. Components & Pages: Dashcode boasts an extensive collection of 80+ carefully crafted pages and components, providing developers with everything they need.
5. Fully Responsive Design: Dashcode ensures a seamless user experience across all devices with its well-designed, fully responsive interface.
6. Clean and Well-Documented Code: Developers will find Dashcode's codebase well-organized and thoroughly documented, making customization a breeze.
7. Continuous Updates: Dashcode stays up-to-date with the latest frameworks and features.
8. Active Support: Our dedicated support team is always ready to assist developers with any issues they may encounter, ensuring a smooth development journey.
9. Github Access: Provides GitHub repository access to update with the latest code and verify the changes.
Built-in Customizer: Dashcode comes with 100+ built-in elements, such as cards, statistics, weather widgets, charts, and maps, that can be easily integrated into any project.
With its multiple conceptual dashboards, numerous color schemes, stunning layouts, and an extensive collection of components and pages, Dashcode empowers developers to create web applications that leave a lasting impression.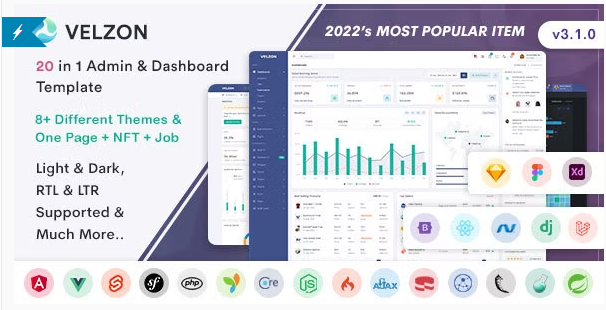 Velzon Admin & Dashboard Template:
Velzon is a multipurpose admin dashboard template building Bootstrap, React, Angular, Vue, Laravel, and Django. With this powerful toolkit, developers can effortlessly create diverse web applications.
This Admin Dashboard Template stands out for its customization options and developer-friendly features. With its fully responsive design and SASS-based interface support, launching any custom project becomes a breeze. With 8 distinct demo variations and 5 different layouts, including options like Fixed and Scrollable.
The template's comprehensive package includes 6 ready-to-use dashboards, 12+ apps, and an impressive collection of 185+ landing pages and applications. This wide array of resources significantly reduces development costs, efforts, and time for developers, making their projects even more efficient.
Velzon's clean and minimal HTML code, supplemented by SASS support and Gulp, guarantees a visually stunning UI and optimized site performance. Velzon empowers developers with its quick setup, developer-friendly codes, and powerful capabilities to start any project.
Key Features:
1. Light Version: Velzon is built in HTML with SASS support using Gulp, ensuring enhanced site performance through minimal code.
2. Apps Pages: Velzon-featured apps allow developers to build similar applications or integrate them seamlessly into any project.
3. Ready-to-use Admin Dashboards: re-designed admin dashboards and landing pages, sparing developers the hassle of building from scratch and accelerating your development process.
4. Powerful and Developer-friendly: Velzon equips developers with user-friendly codes for quick project initialization without compromising on the template's powerful capabilities.
5. Best Quality: With Velzon, you can expect top-notch quality, fully responsive design, and an array of features that are designed to excel in any project.
6. Different Layouts: 9+ variety of layouts to tailor any project to perfection.
7. Pages & Apps: 185+ extensive collections of pages and applications to suit diverse project requirements.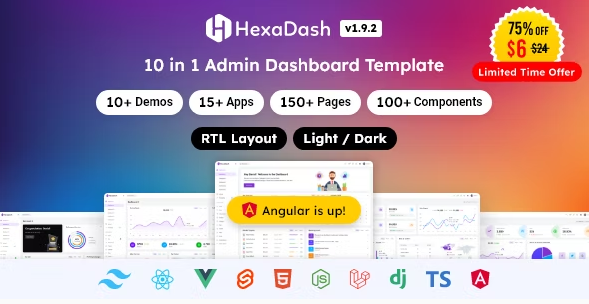 HexaDash Admin & Dashboard Template:
Hexadesh is a premium, versatile dashboard and admin template that seamlessly integrates Tailwind, React, Vue, Angular, Svelte, Node JS, Laravel, Django, TypeScript, and Bootstrap 5. Crafted for your convenience, this template effortlessly blends into any pre-existing projects, with its customizable nature allowing for easy adaptation. Developers will find solace in its immaculate codebase and comprehensive documentation, facilitating a smooth workflow devoid of complexities.
Hexadesh robust functionalities and an array of pre-designed layouts, all of which are fully responsive, developers are elevated to unprecedented heights of creativity and efficiency.
This admin dashboard is meticulously optimized, revolutionizing your approach to progressive web application patterns. The template boasts an extensive repertoire of resources, including over 150 pages, 100+ components, 5+ ready-to-use Dashboards, 15+ pre-built applications, and a repertoire of 100+ widgets.
So, Hexadesh is more than just a template. it's a tool that empowers developers to reshape the future of web applications.
Key Features:
1. Intelligent Code Splitting
2. Diverse Layouts with Seamless Responsiveness
3. Lifelong Free Updates
4. Infinite Template Possibilities
5. Over 5 Pre-designed Dashboards
6. Over 150 Pages and over 100 Components
7. Pristine & Well-Annotated Codebase
8. Comprehensive Array of Chart Libraries
9. Contemporary Design Aesthetics
10. Over 100 Guided Wizards
Hexadesh is more than just a template. It's a tool that empowers developers to reshape the future of web applications.
Certainly, when aiming to elevate your project to new heights, it becomes essential to enhance the functionality of your admin dashboard. If you're seeking a seamless and uncomplicated upgrade, the selection of Admin & Dashboard Templates available on ThemeForest can prove to be an excellent choice for developers. This assortment comprises uncomplicated yet potent admin templates. For developers seeking heightened levels of customization, these templates offer an array of options, encompassing both fundamental and sophisticated features. This diversity caters to various preferences and includes the latest iterations of web frameworks, ensuring a smooth enhancement of your project.